Vintage Fiesta 6" Dessert Bowls
|

Circa 1936-1959
The dessert bowl was initially concieved as a fruit bowl, by designer Frederick Rhead. It's a charming piece standing about 1 1/2" wide but nearly 6 1/4' wide, making this wide shallow bowl usefull and fun to stack. Made in all eleven vintage colors, the bowl was discontinued in mid 1959, right after the release of medium green, making examples in that color rare. Most will be impressed in the mold with the mark "fiesta MADE IN USA HLC", although some earlier versions will have the simpler "fiesta HLC USA" mark.
Vintage Fiestaware Dessert Bowls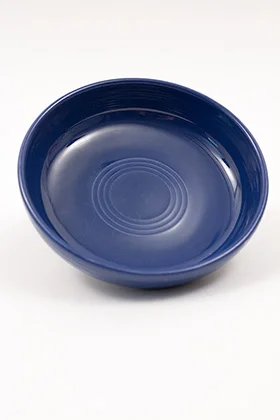 Circa 1936-1951: This example of the vintage fiestaware dessert bowl in the original cobalt blue galze is in excellent condition showing little to no signs of use. It's always a challenge to find the rich blue without scratches and in as good of condition as this example.
For Sale: $65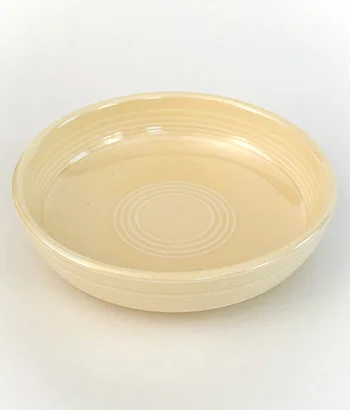 Circa 1936-1951: It's always a treat to find the original creamy ivory vellum colored glaze without scratches or damage to it's luxurious surface. This example is in excellent condtion. Measures over 6" wide.
For Sale: $65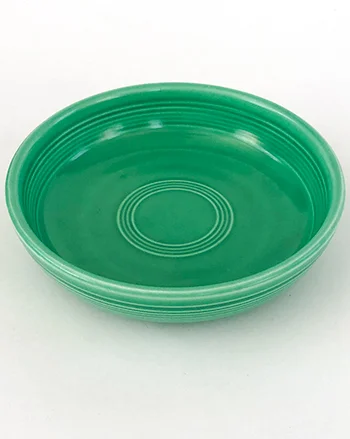 Circa 1936-1951: The original green color was a staple color in the vintage American kitchen and it's a delight to find the great color on such a pleasing shape as the shallow and wide vintage fiestaware dessert bowl.
For Sale: $65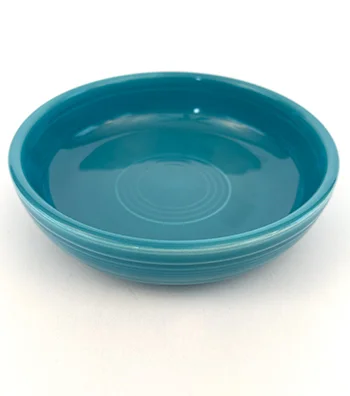 Circa 1937-1959:The dessert bowl was a popular shape that ran since the initial release of the fiestaware line until mid 1959. The stunning turquoise glaze was the second longest running glaze and is great to mix and match with any of the vintage colors.
For Sale: $65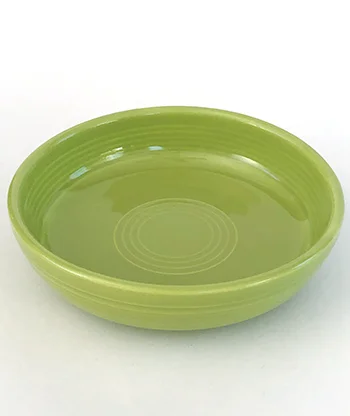 Circa 1951-1959: By the time you reach 1951, fiestaware's popularity had begun to wane and the four '50s colors that were introduced then were made in far less quantities than the pottery from the late 1930s and 1940s, so finding examples of 1950s fiesta colors is allways a treat.
For Sale: $65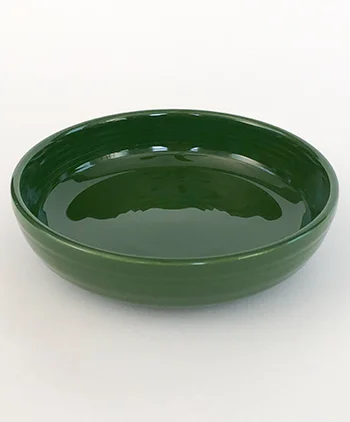 Circa 1951-1959: The striking dark forest green glaze is hard to find without signs of use or damage and this example is excellent and showcases the stunning 1950s glaze.
For Sale: $65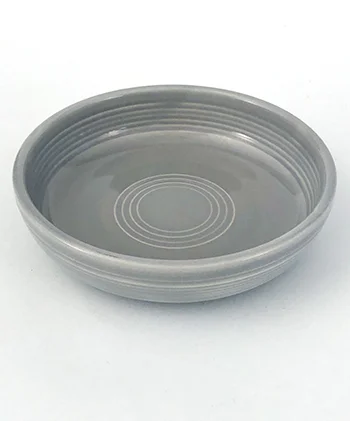 Circa 1951-1959: The 1950s gray colored glaze is unique in vintage fiesta rainbow. A subtle, subdued color, it changes with the light and is strikingly modern over sixty years later. This example on the dessert bowl is in excellent, unused condition.
For Sale: $65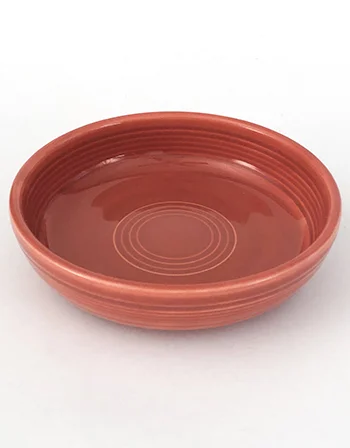 Circa 1951-1959:The dessert bowl is a delightful shape, wide and narrow, with bands of concentric rings decorating it top to bottom, inside and out. This example in the harder to find 1950s colored rose glaze is in spectacular condition
For Sale: $65
Discounted Vintage Fiesta Dessert Bowls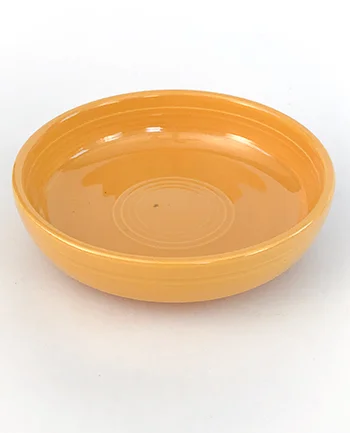 Circa 1936-1959: This yellow bowl is marked more than 50% off because of a couple minor in the making factory glaze spots.
For Sale: $65 30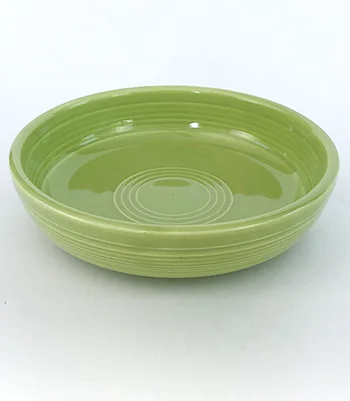 Circa 1951-1959: This chartreuse bowl is marked more than 50% off because of two very minor nics to the rim, otherwise it looks unused.
For Sale: $65 30