Vintage Fiesta Footed Salad Bowls
|

Circa 1936-1946
Produced for only ten years, the footed salad bowl will be found in the first six colors of red, ivory, cobalt blue, yellow, original green and turquoise. A large bowl, measuring nearly 11 1/2" wide, it's an ambitious piece that was not easy to produce, did not sell in large quantities and will be very hard to find in excellent, collector quality condition. The piece will be found with either an in the mold impressed mark "fiesta HLC USA" or the later glaze stamp "GENUINE fiesta HLC USA".
Vintage Fiestaware Footed Salad Bowls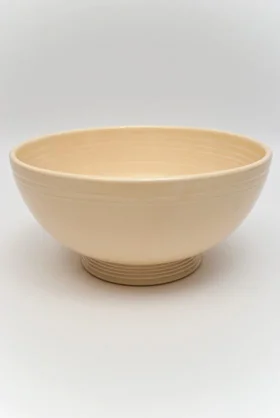 Circa 1936-1946: The Vintage Fiesta footed salad bowl was one of the original pieces released with the Fiesta pottery line in 1936 - ambitious from the start, the giant footed salad measures over 11" across the top.
For Sale: $475
Circa 1936: The Vintage Fiesta footed salad bowl was one of the original pieces released with the Fiesta pottery line in 1936 - ambitious from the start, the giant footed salad measures over 11" across the top. This example in the original light green is in excellent condition. Measures 11 3/8"w x 5 9/16"h
For Sale: $475