Vintage Fiesta Stick Handled Creamers in Original Colors
|

Circa 1936-1938
The stick handled pieces in the original fiestaware pottery line are few and far between with only three pieces made in the regular line and one special piece, the French Casserole, being made for the special 1940s promotional campaign. The fiesta stick handled creamer was part of the original 39 pieces released in 1936 and was the fourth shape discontinued by July of 1938 to be replaced by the easier to produce ring handled version. All examples will be marked, embossed in the mold, "fiesta HCL USA" and measure 3" high x 4 1/2" wide.
Currently Available Stick Handled Creamers
Circa 1936-1938: One of the first pieces discontinued in the fiesta line, the stick handled creamer is a delight with it's hand applied handle and abundance of concentric rings decorating the whole piece.
For Sale: $110
Circa 1936-1938: One of only three stick handled pieces in the entire fiestaware line and released at the onset of the fiesta production in 1936, the original creamer would last for less than two years before being replaced. This example in ivory is in excellent condition without signs of damage or use.
For Sale: $75
Circa 1936-1938: Produced in the first six colors and only avaialable for less than two years makes finding the stick handled creamer an adventerous treat. All examples are highly desirable and this version in the original yellow is in excellent condtion and will make a great addition to your collection.
For Sale: $85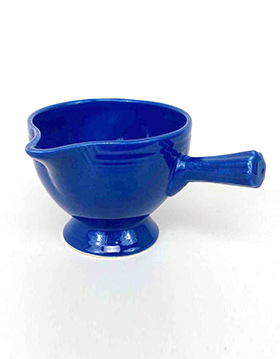 Circa 1936-1938: Lots of hand craftsmanship went into making the pottery from the 1930s, including a seperately cast handle that would have been attached to the body by hand and the foot that would have been flared out by hand using a small wooden tool and then the rings along the foot bottom would have been etched into the piece on a jiggering machine, ring by ring and piece by piece. Mold seams would also have been smoothed by hand, all of this work making these early pieces a delight to behold.
For Sale: $85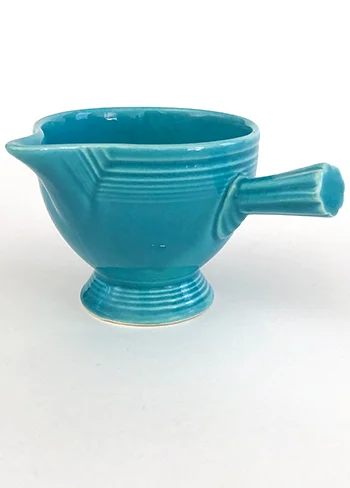 Circa 1937-1938: The turquoise fiesta stick handled creamer is one of the earliest pieces made in turquoise that was discontinued first.
For Sale: $145